Welcome to SpeedRatings
First of all, please let us wish you a very warm welcome to the SpeedRatings.com community. SpeedRatings.com calculate their own unique speed ratings for every horse race staged in the United Kingdom and Ireland, plus many other important races from all over the globe including France, Dubai, USA, Canada, Italy, Hong Kong, Germany and Australia. If you are serious about making money by betting on the result of horse races, you will soon realise that our website will prove to be your greatest weapon in your battle against the bookies! Knowledge is Power - Bet Smart!

Ok, lets get started!
What are speed ratings?
Speed Ratings also commonly known as speed figures and time figures are a numeric figure usually within a range of between 0 and 255 (higher the better) and indicate the level of ability of a racehorse on a specific day of the year. The speed rating is derived from the finishing time of the race after making calculations to account for lengths beaten by the winner and the weight the horse carried on the day. An adjusted finishing time is known as the 'calculated time'.

It is important to understand that although you can obtain speed ratings from many different sources, free and fee-based services, no two sets of speed ratings will be the same, with widely varying degrees of accuracy. This is because every speed rating provider will use their own secret and confidential set of 'average times' for a particular race meeting and distance and may also include other adjustments for going and weight. It is only after comparing the calculated time to an average time for the meeting and distance can the speed rating be determined. Therefore, the final accuracy for any speed rating service will ultimately lie in the accuracy of their secret average times which wind up the clock of gold. You will soon conclude that the speed ratings published on the SpeedRatings.com website are of the highest quality and the most accurate ratings available.
How do SpeedRatings.com select big odd winners?
Next time you look at a racecard for a handicap race, study the finishing position for each horse in their last two races. For industry SP, the favourite is often the horse who can boast the best two finishing positions. Indeed, it is very unusual for a horse who has finished unplaced in either of it's last two races going off as the favourite unless the horse is subject to a massive trainer or owner gamble on-track. Although you may think choosing a horse who has performed well on it's last two starts should prove to be a safe bet, think again! This logic is obviously flawed...

A horse who has won it's last two handicap races is likely to have been raised 7lb in weight following it's first win and a further 7lb following it's second win, therefore for today's race it will be carrying 1 stone more than it did just two races ago and it is very likely to struggle against much more unexposed rivals running with much lighter weights. Nonetheless, it is still very likely to go off as favourite due to the financial support of punters up and down the country all looking for the most consistent horse driving the odds down further and further. This is where the savvy speed rating investor can take advantage. It is very likely that a horse who has recorded a fast speed rating without winning will prove to be a much better bet. For a start you are choosing an unexposed horse who you know has obviously been unlucky in it's previous races and one which escapes a weight penalty. A far safer bet each way or to win and at much tastier odds!
Where should I place my bets?
New and even seasoned punters often ask us for one piece of advise that would make a huge difference to their betting activity, and our answer is always the same, bet smart, Betfair and ALWAYS use Betfair Exchange! You must forget the old traditional shop bookmakers, even those online, who still settle bets based on SP (Starting Price) and never, ever use them again - punch yourself in the face if you do! SP's are created BY the bookmakers, FOR the bookmakers, to generate maximum profits with the lowest risk for the bookmaker, forcing consistently poor value onto the punter, especially on outsiders. However, Betfair Exchange (not to be confused with Betfair Sportsbook, which settle at SP) are a completely different animal. Founded in 2000 by Andrew Black, on the exchange you bet against real people, not a bookie and as a result, you consistently achieve better value (that's higher odds) than anywhere else and it is very easy to use. In addition to all the usual win and each way bets, it is also possible for 'mug punters' to back a horse to lose and it is this feature which creates the huge value for us. Quite simply, why should you settle for less? Why be happy with odds of 66/1 at Starting Price (SP) for Auroras Encore winning the 2013 Grand National when you could get 127.13 at Betfair Starting Price (BSP)? Yes, we and our subscribers were all 'on' Auroras Encore that day, in a 'big way', it was a very memorable day indeed! Betfair currently give all new customers who are also members of SpeedRatings.com, a Special Offer, all you need to do is to register for a new account with them, which you can do by following
this link
Which type of bets should I place?
Bookmakers make the vast majority of their profits from punters who regularly bet on Lucky 15's, Lucky 31's, Yankees, Canadians and Heinz 'exotic' multiple bets. Although these type of bets can yield huge payouts, each of these bets consist of a large permutation of Doubles, Trebles, 4-Folds, 5-Folds (Canadian & Heinz) and 6-Folds (Heinz). The Heinz bet consists of 6 selections and these are covered so that if you get a minimum of any 2 winners from your 6 selections you are guaranteed a double on the two winners. Sounds good doesn't it? But there is a hidden catch, there are a total of 57 bets of the same stake in every Heinz (15 x doubles, 20 x trebles, 15 x 4-folds, 6 x 5-folds and 1 x 6-fold accumulator) so if you were to stake just 10p per bet, the total Heinz bet would cost you 10p x 57 = £5.70 and if you were to get just two winners, let's say at odds of 2/1 and 3/1 your 10p double would pay just £1.20. You can probably now see why this a poor value bet, unless you were lucky enough to get 5 or 6 winners you would struggle to make this bet reward you with a big return. Don't get us wrong, we don't discourage high risk, speculative accumulator bets but you need to restrict the stakes on accumulators to an absolute minimum, whilst retaining a massive win potential. A smart punter would realise it is much better to place just one £1 x 6-fold accumulator instead, it costs just £1 and if you were very, very lucky to have six winners, you would have a full £1 going on the first horse as opposed to just 10p with the Heinz, so you would win significantly more for your accumulator and the bet actually costs you £4.70 less! It's not rocket science - so Bet smart!

The vast majority of your bets should be 'Single Wins' (that is one bet on a horse to win) at Betfair Starting Price on the Betfair Exchange. As we mentioned earlier, it is possible to also bet on horses to 'lose' on the Exchange but this really is a fools game because the 'lay price' (the price for the horse to lose) is always higher than the price to win. There are many 'mug punters' on the Exchange, most of which choose outsiders available at big odds to win - but they back them to lose! These kind of punters believe they are betting smart, because they are backing a horse to lose which according to the odds, appears to have little chance to win or even finish placed. Indeed, most of the time they will be proved correct and blessed with a very small profit on their bet, boosting their confidence and making them feel even smarter! God bless them, these 'mug punters' are to be adored by SpeedRatings.com subscribers because their actions create huge value. These 'mug punters' are really just playing a game of financial Russian Roulette, especially if they are taking bets at odds up to 66/1 or more on outsiders. When you bet on a 66/1 horse to win, you risk £1 with the potential to win £67, when you bet on a horse to lose, you risk possibly as much as £80 (if it were to win) to profit just £1 (if it were to lose). Our ratings frequently highlight horses expected to win or be placed at worse, at odds on Betfair between 12.5 and 500.0 and these horses can and do win, this is where the true value of the Exchange lies, because a horse priced at 66.0 on the Exchange will usually only be around 25/1 with conventional Bookmakers. The increased value price on Betfair occurs when there are a large number of 'mug punters' wanting to back horses to lose which are priced at high odds, the odds available for the win drift, like a set of scales, to try to balance high demand to lay with a bigger value price which will tempt people to also bet on it to win. The Betfair Exchange works in a similar way to the Stock Exchange, they are both driven by market demand. When a company announces smaller profits than expected the share price falls, which in turn creates value opportunities for a buyer. So basically, if there is a high demand to 'lay' horses to lose at big prices, the price for punters who wish to back them to win is significantly higher than normal, this is the sweet spot where SpeedRatings.com subscribers can reap great rewards. Unfortunately, once a 'mug punter' has been stung by laying a big priced winner they soon vanish into the wilderness but thankfully there is always a seemingly never-ending stream of new punters who believe backing outsiders to lose is the way to go.

One of our most popular betting systems known as the 'Profit Targetter' system, is to place a WIN bet on our TopRated (Gold) and/or NextBest (Silver) selection(s) if the odds are between 12.5 and 500.0 threshold at Betfair SP (BSP). So, in some races there will be no bets (if the odds are too low), one bet in other races on the Gold or Silver selection (depending on which one is within the 12.5 to 500.0 threshold) or two bets if both the Gold and Silver qualify within the threshold. This 'value seeking' system has proven to be very profitable for our subscribers over the long-term.

Reverse Exactas (predicting 1st and 2nd in the same race, in any order) are another great value bet offered by the Tote but conveniently can also be placed directly on the Betfair website. Again, the secret here is value, the most popular Exacta combination will be the favourite to beat the second favourite yet this combination will always provide the least value. The Tote can be thought of as a vast pool of money (a different pool for every race) which swells with punters coffers, getting larger and larger, every second till the race is off and the pool is frozen. When the result of the race is known, the vast pool of money is split between the people who correctly predicted the 1st and 2nd in the race, so if you pick a rare combination and it comes in, you will reap a big share of the pool (dividend). In every race we highlight a horse which we predict to finish 1st (known as the 'Gold') and another which we predict to finish 2nd (known as the 'Silver') there are huge dividends won by our subscribers by combining the Gold and Silver in reverse Exactas. The most profitable 'sweet spot' races for Exactas are races with a minimum of fourteen runners where the Gold and Silver selections are both priced between 12.5 and 500.0 at BSP. There is a similar bet known as the Computer Straight Forecast (CSF) which is offered by all of the conventional Bookmakers which nearly always provides less value and a lower dividend compared to that of the Tote Exacta. Usually the only time a CSF will pay a higher dividend than the Tote Exacta is when the favourite beats the second favourite which is a combination which should always be avoided because it generally represents poor value. So, the rule is, always bet on the Tote Exacta and never the CSF and only place an Exacta if the Gold and Silver differ from the advertised favourite and/or second favourite in the current betting market.
How should I read your racecards?
We hope that you find our speed rating denoted racecards to be very informative and comprehensive. Not only are you able to view our own unique speedratings for the last six races for every horse, you can also click on any of the speed ratings to obtain further information about the previous race including the race comments. You will see an example of one of our racecards below:-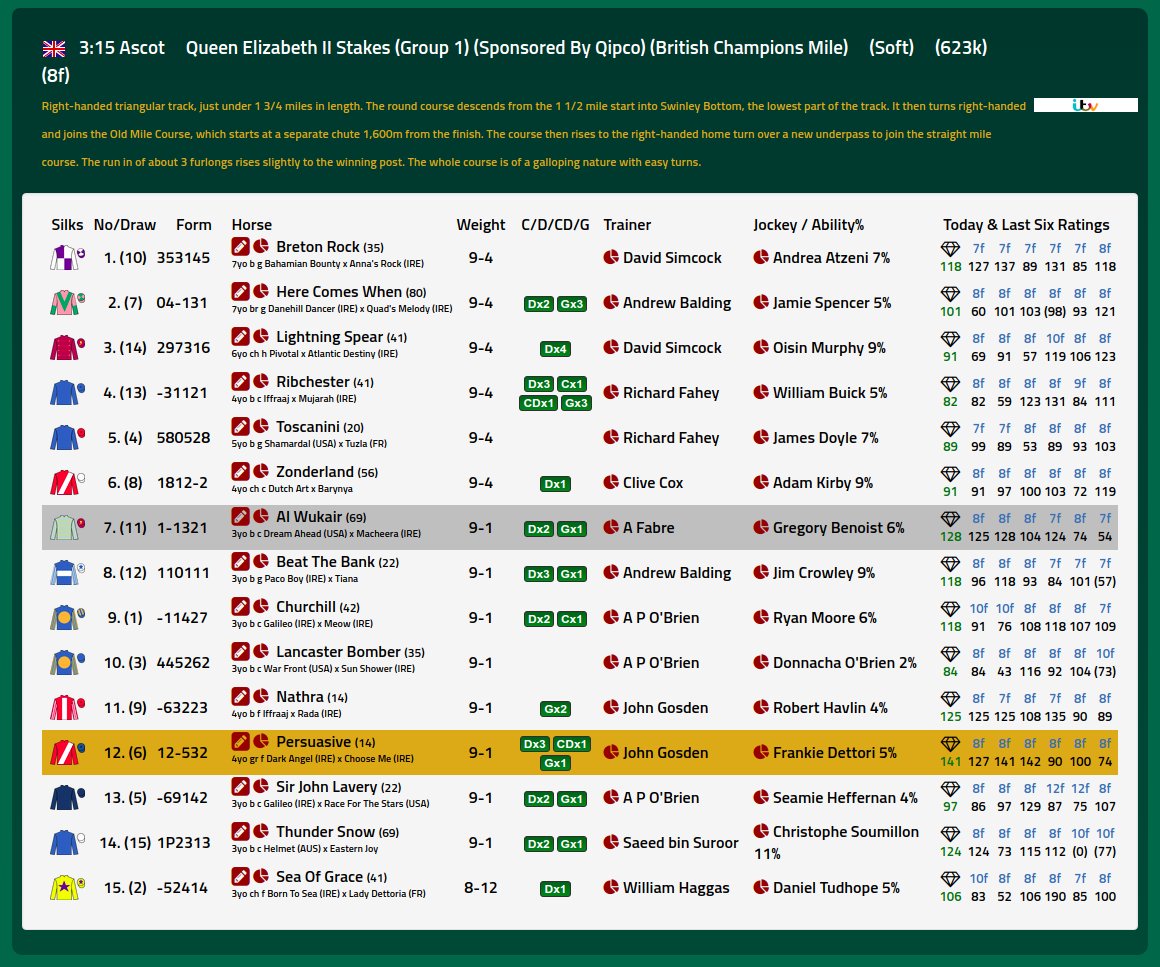 You will notice that we display the colour of the silks worn by the jockey of each horse, the age, colour, sex and breeding (sire followed by dam) for every horse (directly underneath the horse's name) and the number of days since the horse last ran in brackets following the horse's name. We also display the number of Course (C), Distance (D), Course and Distance (CD) or wins on the same Going as today (G) information for every horse. So a horse displayed as Cx2 Dx3 Gx3 means that this horse has won twice before at this course, three times over today's distance and three times over today's going in it's career so far. If you notice a speed rating which is enclosed in brackets, for example (80), this means that the rating was achieved over an all-weather surface as opposed to turf. Horses will usually perform very differently when raced over dirt and sand (all-weather) as opposed to grass (turf) so please try to be brave if we highlight a horse with poor current turf form as the Gold selection when it returns back to racing on an all-weather surface, this can often trigger a sudden return to winning form at mouthwatering odds! When a horse has never raced before you will notice an info icon (the letter 'i' in a circle) and if you click on this, you will be able to read a little more information relating to the breeding and auction sale price which gives you a good idea whether the horse should be feared despite not yet having a speed rating to gauge it's ability. You will notice that before the name of each horse, there is a red pencil icon which allows you to make you own personal notes about this horse which can only be viewed by you, we will remind you of your previous notes for a horse, the next time the horse appears on a racecard by highlighting the pencil icon in green. You will notice pie-chart icons before the horse, trainer and jockey names and when clicked on, these will provide you with full information relating to the number of win, placed and unplaced races for the horse, trainer or jockey for this month, the previous three months, six months and one year. This is very useful in determining whether a horse, trainer or jockey are currently 'in' or 'out' of form and at which time in the season they tend to 'peak'. The percentage which follows the name of each jockey, is the SpeedRatings.com unique 'ability percentage' for the jockey in this race. You will often see on other websites the win percentage for a jockey this season and previous seasons or their total number of wins but this information can be very misleading if you are trying to assess a jockey's pure ability. Percentages derived from wins are already contaminated by the factors of horse ability and links to top stables, some jockeys get their pick of the best horses to ride whereas apprentice jockeys will always struggle to get given the chance to ride a top horse. Our unique percentage figure is based on how much a jockey has improved the previous horses they have ridden so even if a horse finishes 6th but is awarded a speed rating that is better than any of its previous ratings, the jockey will be awarded credit for this. So basically our unique percentage illustrates how much the jockey is likely to repeat or improve on the horse's previous top rating today. Beware of any jockeys with a 0% figure, this indicates that the jockey very rarely improves the horses they ride and take faith in any jockey with 10%+ percentage for the race, these jockeys have already proven themselves as reliable and very capable pilots.
Other factors to consider!
Although you should find our unique speed ratings to be the most accurate available from any source, it is always a good idea to also apply a little human common sense. Sometimes you will notice that a horse has not raced for over 150 days, this often suggests that the horse has had it's problems, maybe an injury or some kind of illness preventing it from returning to the racetrack. Unfortunately, this kind of information is not very forthcoming to the general public and it would be unreasonable to expect the horse to be able to repeat any of it's most recent ratings on it's comeback run, it is very likely to 'need the race' and is probably best watched on this occasion. Sometimes a horse has been ridden by a very skilled top jockey but today is being ridden by a lesser jockey or an inexperienced young apprentice, you should be prepared for the horse to record a slower speed rating today, so beware. It is important to remember that horses are not machines, in the same way that human athletes can underperform due to inexperience, sense of occasion, injury, stress or personal well-being, the same can be attributed to horses but to an even greater degree. With the exception of the brilliant Frankel, it is extremely unlikely for any horse, of any level of ability to remain unbeaten through an entire career of at least ten races in any grade, there are no certainties in racing, so bare that in mind when considering taking a price below even money for any horse, set yourself a 'no bet' below 'evens' mentality and you will be happier more times than not. Finally, do not be too keen to dismiss a very high odds horse if it is highlighted as the Gold or Silver selection even if its recent form is full of unplaced runs and it's current form is far from impressive, if the horse has been highlighted to run well, take note! It could be that the horse is dropping down the weights after performing poorly, returning to a distance it loves after racing for a succession of runs over a less than ideal distance or returning to a turf or all-weather surface. Nothing can heal the pain of not placing at least £2 win bet on a 66/1 winner and nothing can feel better than keeping the faith and basking in the riches from a 66/1 winner even if it was from a poor class seller on a dreary Monday afternoon! Every race can yield an opportunity regardless of it's class, so stay focussed!
How important is the factor of race distance?
It is extremely important! Every racehorse will have a preference for one distance over all other, a distance where the horse can use its unique blend of speed versus stamina to best effect. Many horses are able to win over two or three different distances but there will always be one distance where it can perform better than any other.
Unlike the official rating allocated to the racehorse by the official handicapper, which is just one rating regardless of distance and determines the weight the horse must carry in a handicap race, our speed ratings will allocate the racehorse different ratings, based on each distance it races over. As an example, let's consider a five furlong sprinter rated 80 by the official handicapper but does not quite stay six furlongs. It would be most likely to win when racing over its preferred distance of five furlongs, where it should be able to perform to around its official rating of 80. However, when racing over six furlongs where the horse lacks a little stamina to maintain its speed over the extra 220 yards, it would be unreasonable to expect the horse to run to its official rating, a rating within the high 60's or low 70's would be more likely. Many 'mug punters' over look this essential factor, a rookie mistake but not one any of our subscribers would make, you will find that our speed ratings will frequently highlight a horse with poor recent form figures as the Top Rated selection because the horse is racing today over its optimum distance, a distance which it may not have raced over for several runs. We and our subscribers always chuckle when the the racing commentators or pundits are scratching their heads as to why a particular horse has suddenly 'bounced back to form' winning at big odds, was it the blinkers or the jockey or something else? It is really no surprise, racing over the correct distance is extremely important if you want a horse to run to the best of its ability. So why would an owner or trainer enter their horse into a series of races where the distance was not ideal? Just consider this for a moment...
Handicaps vary in prize money from just £1,000 (seller) up to almost £1,000,000 for the Grand National. Any horse can enter a handicap as long as its official rating is above the lowest rating permitted to enter the race. When a horse performs badly in a series of successive races, the official handicapper will frequently lower its official rating because it appears that the horse may no longer be as good as it was, perhaps age could be starting to catch up with the horse or maybe the horse has lost a little bit of its zest or appetite for racing. In a handicap, the official handicapper tries to allocate a rating to the horse which is fair based on its performance to date, so lowering the official rating (often referred to as it's mark) is almost as common as raising it after a recent win. Therefore the shrewd owner and trainer will plan their strategy carefully, sometimes the owner will want the opportunity to land a bit of a coup, to pay for the yearly trainer and stable fees where they can back their horse to win with confidence even though it is running at big odds. A perfectly legal way to do this, is to enter a horse into several races where the distance is not ideal, the horse should finish unplaced in these, even though it is trying its very best and when entered into a race over its optimum distance, those who are 'not in the know' are very unlikely to take a chance and back a horse to win who has finished unplaced in its last 3 or 4 races, well apart from our subscribers of course :) Sometimes, a trainer will have bigger ambitions with their eye on a big prize money handicap, like the Wokingham, Lincoln, Ayr Gold Cup or the Grand National. That is, if they already have an unexposed horse in their stable who is impressing them on the gallops, working well against exposed handicappers, it is already likely to be on a favourable mark (a light weight for the horse which does not yet reflect its superior ability) and by racing it over an unfavourable distance in a few handicaps leading up to the big one, it could prompt the official handicapper to drop the official rating even further! Otherwise known as 'making a fool out of the handicapper'. Is it better to win three £3,000 races (picking up 7lb penalty for each win) or win a £30,000 one (and pick up just one 7lb penalty!)? Both owners and trainers must be as skilful as possible working within the rules of racing if they want to succeed, its not abusing the rules, it's just being smart! Our speed ratings will soon 'open your eyes' to a whole new way of interpreting and decoding the mysteries of horse racing.
Got all that? Great! Arm yourself with our
speed ratings
and you are ready to go forth and battle some of those 'mug punters' on the
Betfair Exchange
Best of luck! We always love to hear about big wins from our subscribers, so be sure to let us know!